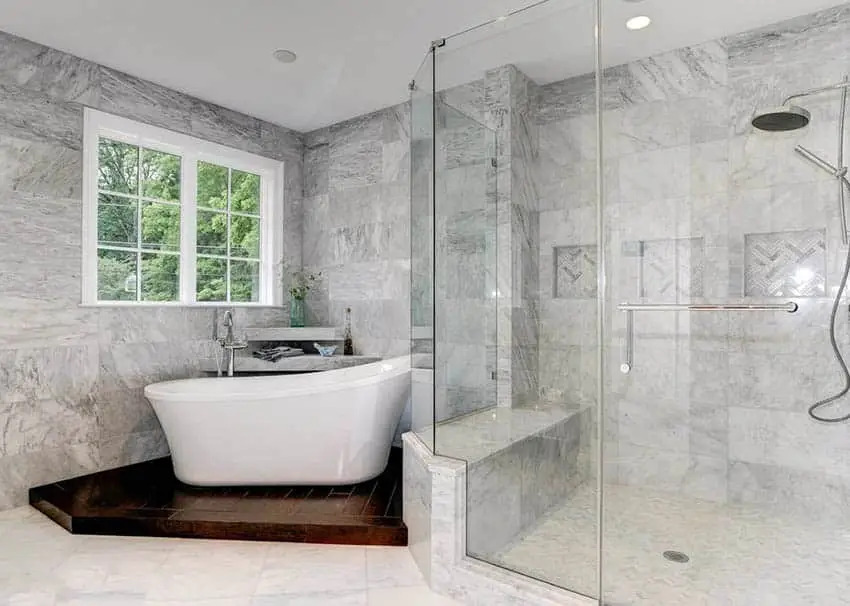 Showers are the most valuable bathroom equipment, whether pre-fabricated, customized, or a thermostatic mixer shower. You could spend days deciding between a rounded, rectangular, neo-angle, or square shower enclosure. Based on the type of shower you choose, the speed, pressure, and amount of water falling will change drastically. Furthermore, the flooring, ceiling, doors, shelves, and even brand of pipes and taps will make a huge difference. We've curated a list of 12 different types of bathroom showers to upgrade the aesthetics and functionality of your bathroom.
Electric Shower
The one must-know advantage of electric showers is that they don't require a separate hot water supply. There's an in-built heating unit that turns cold water into hot almost instantly.
This becomes a significant benefit in terms of lesser piping maintenance as compared to thermostatic mixers.
Pre-fabricated Shower
These are the most mainstream types of showers on the planet. In addition to its affordability, this single-piece shower comes equipped with grab bars, wall panels, a shower base, and much more. Most often, it'll be made out of a synthetic material such as moulded fibreglass or plastic.
The only drawback is the beautification aspect. Most pre-fabricated showers are dull on aesthetics and revolve around a plain, almost lifeless design.
Rectangular Enclosure Shower
Rectangular enclosure showers, also known as freestanding walk-in showers are compact enough to comfortably bathe yourself even in a hurry. They are minimalistic and can be extended to offer a larger surface area.
If you have a small-sized bathroom, you can easily install this shower type in a corner.
Neo-angle Enclosure Shower
These types of showers signify class at its finest! Having five sides, two of the wall material and three of glass, it's most often diamond-shaped and tucked away in the corner of the bathroom.
They are comparatively bigger than rectangular/curved freestanding, walk-in showers. This can be credited to the edged-out placement of the middle glass, which is generally the door in neo-angle enclosure showers.
Pivot Door Shower
Pivot door showers offer a full-fledged doorway entry and exit system, otherwise known as swinging door showers. The doors are super smooth to slide open or shut close.
The hinges of pivot doors are positioned at the topmost and bottommost sections of the door, providing more of a sleek and modern look.
Multi-setting Showerhead
Suppose you prefer to make the most of luxury baths. In that case, a multi-setting showerhead will upgrade your shower's functionality more than ever. The showerhead can adjust to a massage, pulsating, cold, misty, or sauna-like setting at the click of a button.
In a multi-setting showerhead, you can even regulate the speed of the water, the amount of area it covers, the water pressure, how water drips, and whether you want a narrow or wide stream of water from the showerhead.
Shower Tower
Shower towers are more of a 21st-century invention and are high in demand in premium bathrooms.
Let's keep its highly functional and elegant design aside for a moment. Apart from the classic showerhead, it also has two additional body jets to direct water right onto your body. These outlets are the reason shower towers have a reputation for providing a jacuzzi-like bathing experience.
The tall uniform box on the tower will have a panel with controls, valves, a hand shower, and so much more.
Body Shower
In contrast to its simple name, a body shower allows water to fall from a showerhead above and multiple side showers. These shower types are famous amongst athletes who take extra measures to soothe their bodies and seed quicker muscle recovery.
To regulate the intensity of the water flow, you can even play around with the flow settings.
Tub & Shower Combo
Tub & Shower Combo is the exact opposite of a freestanding shower. Its 2-in-1 functionality allows you to save up on ample bathroom space while also enjoying the luxuries of a tub with a showerhead.
Though not as common because of the inconvenience it causes to the ones using only the showerhead, there is now a broader range of designs that increases the comfortability rating.
Stone Bathroom Shower
If you want to disrupt the status quo of showers, then leap and install a rugged stony interior setup within your shower. You could create an eye-catching colour-coding between the walls and the flooring and make it stand out.
Not to forget, stone can be pretty expensive, and it'll also require resealing on a tri-yearly basis.
Concrete Bathroom Shower
Apart from being eco-friendly, since this design is based on a single material, it's budget-friendly.
Concrete showers can't be stained or scratched easily, and they are known to have exceptional durability. The one drawback is that in case of damage, the entire flooring needs to be changed. In short, the whole concrete slab will have to be removed and replaced with new ones in case of damages.
What's best, you can install concrete flooring that's an amalgamation of recyclable materials such as porcelain and recycled glass.
Waterfall Shower
Suppose you're more of a feel-it kind of individual who prefers the soft touch of earthy elements instead of rapid gushes of water bouncing off your skin. In that case, a waterfall shower will be a game-changer.
The showerhead is placed slightly higher than the standard showerhead, and the water outlet creates a waterfall-like flow. This flow will feel like chunks of water are gushing across your body, but with an extraordinarily gentle and seductive feel.
If you want to convert to a waterfall shower without burning a hole in your pocket, attach a gooseneck-shaped adapted and attach a waterfall shower head.
Verdict: Types Of Shower
Let's go on classifying the varying types of showers. You'll be more confused or may land up installing a second shower in your bathroom. Ensure your account for maintenance budgets, family size, and the materials your bathroom is made of outside the shower area. Contact a local plumber near you if you are in need of help.
Bonus Read: Read about the top 10 digital showers in 2021.