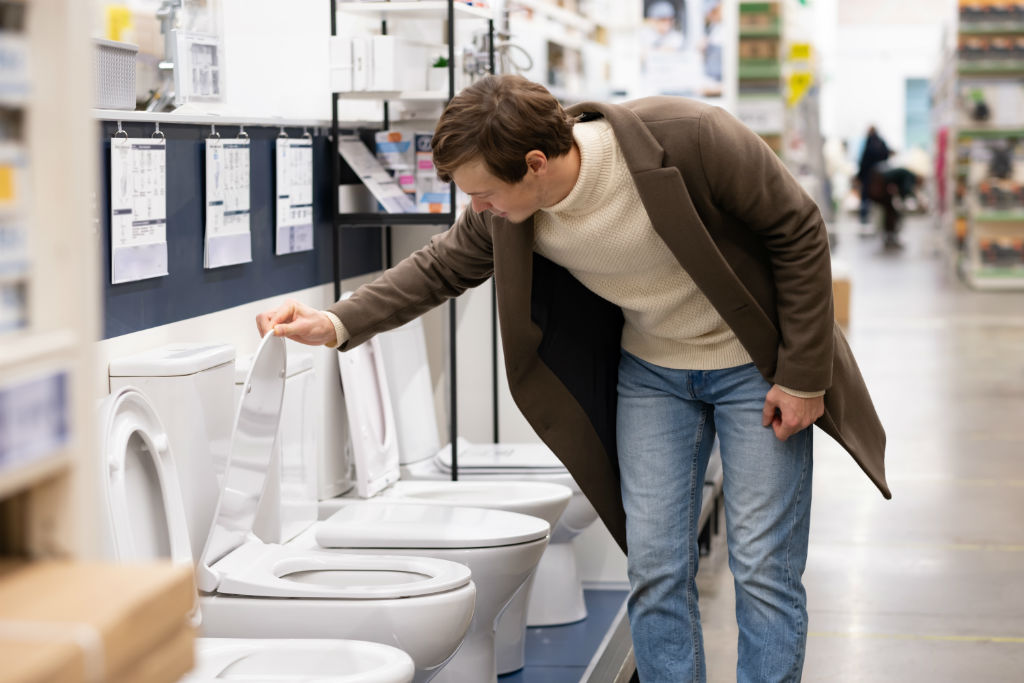 Various people have to go through many decisions while renovating their bathroom or planning out a brand new one. For instance, they are choosing a toilet. While they think it should be straightforward and doesn't require much thought, some confusions always arise.
Contrastingly, there are thousands of options for picking a toilet for the bathroom. Before people get overwhelmed, we'll break down things regarding different types of toilets to ensure they make the right decision.
4 Factors to Consider While Picking a Toilet
Whether you intend to install a toilet yourself or hire a plumber for toilet plumbing, choosing the right toilet for your needs is an important first step. There are a lot of factors to take into consideration while choosing a suitable toilet for the bathroom. We have broken down four significant factors that apply to everyone picking a toilet. They are:
1. Good Flushing System
Nobody enjoys flushing the toilet twice. The bathrooms today usually feature dual-flush technology. Therefore, make sure the one in your washroom has good flushing technology.
There'll be two buttons on the top of the tank, which lets users partially flush for liquid waste and a full flush for solid waste. The best models flush effectively regardless of the type of waste.
2. Water Efficiency
Toilets account for a third of household water use. For this reason, toilets must use less than 1.6 gallons of water per flush. However, high-efficiency toilets utilise less than 1.28 gallons per flush for our eco-friendly readers out there.
High-efficiency toilets can save up to 4000 gallons of water per year, making it something to consider, mainly when a family of four uses the bathroom.
3. Easier Cleaning
Cleaning a toilet is frustrating and time-consuming for most of us. The good news is that various modern bathrooms offer innovative and hygienic features that make it simpler to keep the toilet clean.
For instance, Kohler features Continuous Clean technology in their products. This means that the toilet automatically releases a cleaning solution with each flush to keep the bowl clean between flushes.
4. Space
While purchasing a new toilet, buyers must keep in mind the space required to install it in the bathroom. It's important to note the measurements, so it doesn't feel awkward to use later.
The amount of space taken depends on the type of toilets in the market. Each style of toilet features its own advantages. Knowing the difference is essential to choosing the proper toilet for the bathroom.
Currently, these four types of toilets are the most popular in the market. They are:
We'll be taking a quick look at each of these toilets' features, benefits, and drawbacks.
4 Types of Toilets with Pros and Cons
Not all toilets are created equal. They each come with their benefits depending on a person's priorities while choosing a perfect fit for their bathroom. Fortunately, toilets today cater to different people for the best design and experience.
1. Back to Wall Toilet
The back-to-wall toilet is fitted into the wall or against a specially designed cistern unit. In other words, there is no gap between the bathroom wall and the toilet.
Pros
These toilets feature a modern design and are available in curved or angular shapes.
Back-to-wall toilets are small and compact, which is great for smaller bathrooms.
They are built from quality ceramic, which is easy to clean.
The plumbing work is hidden in the wall or the unit, providing a clean look to the bathroom.
Cons
These types of toilets may not fit existing water inlet options in certain bathrooms.
Bonus read: Best back to wall toilet reviews
2. Close-Coupled Toilets
Close-coupled toilets feature the pan and cistern coupled close together to make one toilet unit. These are the most commonly used toilets in bathrooms.
The flush button in these toilets is at the top of the cistern. They will also have space between the wall and the back of the toilet.
Pros
With the cistern already attached to the toilet pan, close-coupled toilets are easy to install.
They are a good choice during the renovation if owners don't want to re-plumb or re-tile the entire bathroom.
Cons
These toilets will take longer to clean because of the exposed cistern and the space between the wall since the toilet will accumulate dust.
They lack a bit of style today, as there are more modern alternatives available.
Bonus read: Best close-coupled toilet reviews
3. Rimless Toilets
As the name suggests, a rimless toilet doesn't feature a rim where the water would typically flow from in a traditional toilet. Instead, it comprises a flushing system that shoots water towards the edge and around the toilet bowl.
Pros
The flushing system in these toilets distributes water more effectively while flushing.
Rimless toilets are easy to clean because there aren't any corners for germs to build up.
They are a wide range of rimless toilets available, with affordable price ranges.
Cons
Rimless toilets are pretty complex to install, so a plumber is needed.
The bowl depth is insufficient in specific rimless toilets. Sometimes, people need to flush multiple times to clean the toilet.
Bonus read: best rimless toilet reviews
4. Raised Height Toilets
Raised height toilets are designed for tall users or elderly people with mobility issues. These types of toilets ensure that the bowl and seat height is comfortable for specific users.
Pros
These toilets apply less pressure on the joints and lower back, promoting a better lifestyle.
Very comfortable for taller people and offers the best support to the elderly and disabled.
Cost slightly less compared to standard toilets.
Cons
These toilets aren't recommended for shorter adults and children.
Feet dangle because of their height, causing loss of blood circulation.
It prevents a natural squatting position, which may cause constipation.
Bonus read: Best raised height toilets reviews
Verdict
Choosing a toilet can be difficult, so keep in mind how different types can cater to you, family members, or anyone who's going to use the bathroom regularly. There are also add-ons available, such as toilet seats, toilet roll holders and other accessories in addition to the types of toilets.