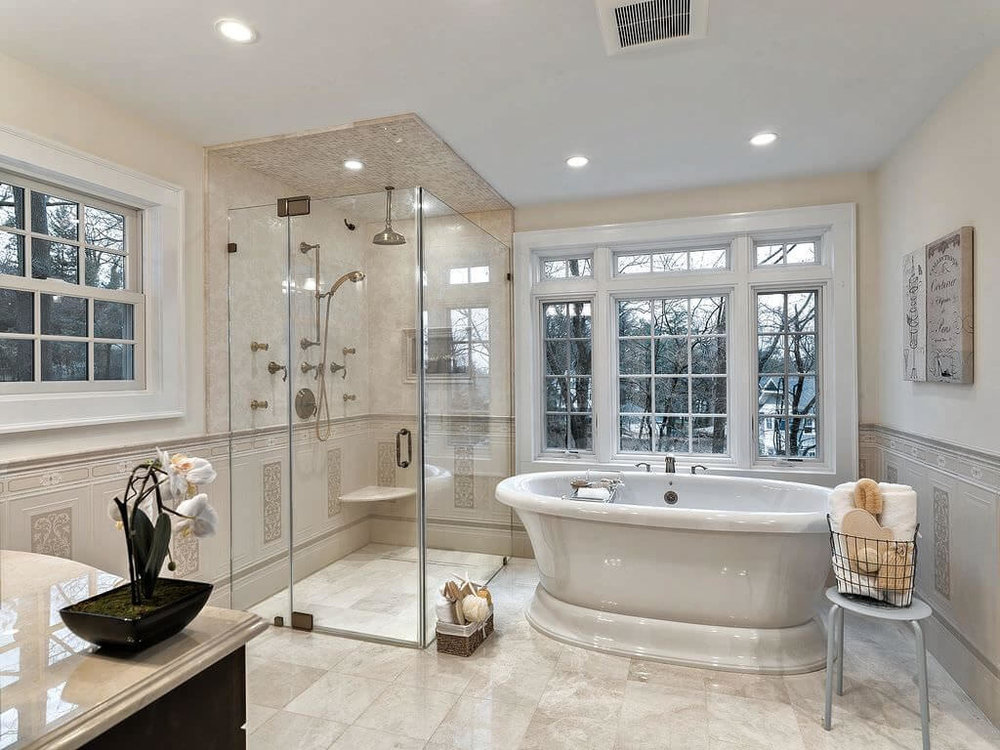 Are you planning an imminent bathroom renovation? This is for you. We have compiled the top bathroom trends of 2021 to give you some inspiration for that important project. You are not about to run out of ideas, from the classy bathroom fittings to the neutral natural colours and refined tilling.
1. Tubs and Sinks that exude cultural traditions
You will be amazed at how much glamour you can achieve with standalone water basins and tubs, even freestanding bathroom storage. The Japanese bathrooms are known for their natural asymmetrical shapes and artisanal touches. More designers are adopting this design – a move that takes us back to the basics while highlighting our culture. These refined and subtle shapes will top the charts in the incoming year, with more natural stone tubs in the works.
Integration:
When it comes to integration, there are a few options to choose from. You can have your standalone tub in three different locations – in a corner, the middle of the park, or by the wall. Your space will determine the best fit. Natural basins never fail, mostly the beautiful shapes made from marble, concrete, stone, and other rough-looking materials. You want to maintain the stone's natural mat look while going for stones with multiple visible veins. To cap it off, maintain the neutrality of the bathroom to make the tub an outstanding feature.
2. Biophilic Design for the bathroom
The biophilic design trend is for the nature lovers – a fabulous bathroom with a touch of nature. Having nature around is a sure way to improve efficiency and performance. It also helps to stay calm and more focused.
Integration:
The simple hack in a biophilic design is to integrate several plants into your décor. How about a wall full of greenery? Or a standalone tub or sink with an unusual shape? These will definitely inspire nature. When it comes to the colours, the whites, greens, and greys never fail to deliver soothing tones.
Your powder room is best adorned with wallpaper with greenery. Do not forget lighting – the right lighting complements your nature-themed décor. You can easily mimic the natural outdoor light by installing big windows or using a dimmer or a skylight.
3. New look from colourful sinks
Have you ever thought of adorning your bathroom with coloured sinks? You should now because it is a trend! Instead of the all-white affair, try the colourful bathroom sinks and marvel at the difference.
Integration:
For best results, combine the sink with neutral tones for the other areas of the room. This makes the sinks stand out.
4. Matte white fittings
More homeowners are opting for matte white fittings for their bathrooms. This acquired taste offers a minimalistic feel, thanks to the colour, and it is perfect for simple and contemporary bathrooms.
Integration:
You need a rather basic bathroom vanity, alongside unique bathroom fittings. Complement these with a simple look tiling so that it remains the focal point of your design. We will recommend a glass-walled or open shower. Perhaps, you are not a fan of white? Black matte fittings will give you fantastic results as well.
5. Terrazzo is still in vogue
The Terrazzo trend is on a retainer from the 2019 trends. Apparently, designers are still crazy about the idea of mixing natural stones, marble, and cement to make magic in decorative accessories, backsplashes, counters, and even wall surfaces. Terrazzo, in the bathroom, is used for flooring and shower walls. Terrazzo sink is also a thing. The best part is that there are tons of material and colour combinations to choose from.
Integration:
Terrazzo is known for its durability. So, the natural-toned versions are more preferred because they will always long last. The fragmented texture is due to the multiple materials used in its making. For best results, opt for small fragmented Terrazzo over the large fragmented types.
Conclusion
Excited to get a new bathroom design for 2021? That would be fun! But before you venture into any renovation projects, sound planning is always required. Several points should be considered before you start and you should take advantage of all the resources at your disposal. Checking bathroom renovation tips could help you a lot in maximising your efficiency while mitigating any issues and budget outburst.
Are there any bathroom design trends that we missed? Let us know in the comments!