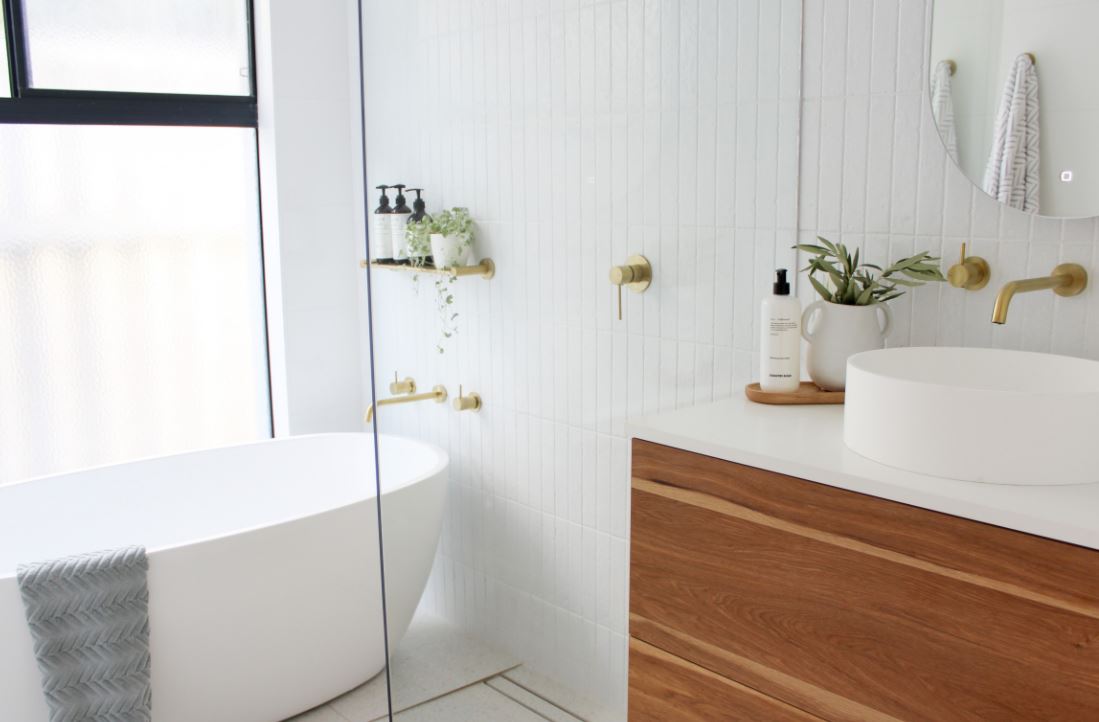 Do you need a new bathroom because of your growing family size? Or because your decades-old bathroom is sulking below mediocre levels of aesthetics and comfort? Either way, installing a new bathroom comes with a hoard of equipment choices ranging from taps, showers, toilet seats, drawers, mirrors, mats, and even flooring materials.
Calculating the cost of a new bathroom installation on the go won't be a wise choice as extra expenses often pile up, and you'll land up paying a bomb for a new bathroom. It's best to venture into this project with knowledge of the varying equipment types, price ranges, and what bathroom equipment fits in most economically and aesthetically.
This article talks about the cost of a new bathroom, few hacks to build it economically, and some tips to follow when renovating your bathroom.
Cost Of a New Bathroom Installation
A new bathroom installation costs anywhere from $6000 to $30,000 based on the quality of materials, brands, and equipment you choose. This amount includes factors such as:
Tiling: $100 per square meter
Underfloor heating: $300 to $350 for a generic bathroom
Extractor fan: $340 to $380
Shower enclosure and shower tray: $590 to $630
Standard mixer shower: $370 to $490
Electric shower: $590 to $630
Wet room kit: $1820 to $2000
Radiator: $390 to $420
Bathroom cabinet: $80 to $150 per cabinet
Plastering: $70 to $80 per square meter
Ceiling light: $150 to $210
These amounts will vary based on your location, labour charges, and whether it's an entirely new bathroom or a bathroom remodelling project. Moreover, additional factors such as permits, hardware, insulation, and drywall can affect these costs based on some requirements.
If you're on a tight budget, don't get tempted by expensive materials' beauty and marketing strategies. Try and evade the traps of costly tiled bathtubs and satisfy your new bathroom's essential needs by resorting to pre-fabricated bathtubs.
Even better, for your bathroom vanity, try and indulge in a DIY project that recycles old furniture and makes use of materials you plan to discard. Even taking up a painting task yourself will lead to substantial savings on your new bathroom.
Tip: As a per day rate, plumbers will charge anything from $330 to $540, whereas electricians would charge $235 to $300 on an average. When it comes to carpenters, they can charge from $300 to $380, and this rate can fluctuate based on which part of the world you're in.
Hacks To Economically Build A New Bathroom
Here are four hacks to consider when you're planning a bathroom installation:
If you live in a two-story house, then installing one bathroom right above or below the other will be much cheaper because the existing bathroom will nullify all plumbing concerns. Additionally, try and install your bathroom where your laundry room existed, or even near your kitchen. This also leads to subsidised plumbing costs.
Another financially viable solution is to opt for a three-quarter bathroom as compared to a full-fledged one. This should generally include all the basic bathroom furniture ranging from drawers, sinks, and showers but eliminates the presence of a bathtub. And if your bathroom has a bathtub already, then there's no harm in skipping the bathtub in the new one.
One more hack is creating a bathroom on the lower floor of your house compared to higher floors. Since plumbing lines will already be in place, you won't have to invest a hefty penny.
If the new bathroom is being constructed especially for your weekly guests, then no need to go all-out in terms of equipment. Simply put, install a half-bath. As a half-bath only comprises a sink and toilet, this minimalist approach proves to be just what the guests need. Not to forget, you also save up on valuable space inside your house.
More About Bathroom Installations
Speaking of the bath type, a simple acrylic bath will cost no more than $100 to $200. But if you go for a designer bath, you'll be paying no less than $1000. If these designer baths are made of premium materials in the form of composites or granite finishes, the price becomes much steeper.
Additional Bathroom Essentials
While the must-have furniture and equipment that makes a bathroom fully functional is one aspect of the financials, we often forget to account for the lighting, storage, sanitaryware, and much more.
Lighting
To strike a balance in terms of lighting and the kind of colours in your bathroom, you need to choose from a wide range of bathroom lighting options. These range from pendant lights, track lights, mirror lights, vanity lighting, wall sconces, LED strip lighting, ceiling lights, track lights, and in some cases, even chandeliers or lanterns.
Also, these fittings have to be IP rated to avoid any calamities in the wet areas of your bathroom.
Storage
This includes drawers for towels, clothes, waste, and other bathing essentials. Be it freestanding storage or fitted storage; prices vary on a large scale.
Sanitaryware
These options range from handwash fittings, curtains, windows, taps, bidets, or even if you choose different basins (twin, pedestal, or console) for multiple purposes.
Tips for Bathroom Renovation
Here are some bathroom renovation tips that guarantee all the money spent on your new bathroom installation will be worth it:
Avoid opting to relocate your tap. Keeping as many key components in their original position will save up on plumbing responsibilities.
Do not involve the installation of wood in any part of the bathroom. Although if you're looking for a rustic bathroom vibe (which can be one of sought after bathroom trends), then nothing like it! Irrespective of having a high quality of wood, the steam and water release will kill its texture and smoothness.
Use catchy wastebaskets that meet the eye. Even a small bathroom wardrobe under the basin would look splendid if it's a brown, basket-like structure.
Reduce the need for multiple lights as much as you can. A single intense light on the entry that reflects on the mirror and brightens up fewer lit areas of your bathroom is a good choice.
Cost Of A New Bathroom: Verdict
All in all, if you got the funds and want to bring a bathroom idea to life, a bathroom designer could be your best bet!